For a Thousand Oaks polygraph test:
:
Not all polygraph examiners are the same.

The results of a test can change your life,
so let us share some 'secrets' with you.

Be informed: know the difference. Secrets about lie-detection in Thousand Oaks 818 883-6969
---
1. Insist on computerized polygraph testing:
--If you see an old antique 'roll of chart paper with moving pens', RUN! Only part-timers and amateurs would use those.


2. Insist that you be allowed to quietly monitor the entire examination:

--Don't wonder later down the road if your person bribed the examiner for a passing score (yes, it is offered often!).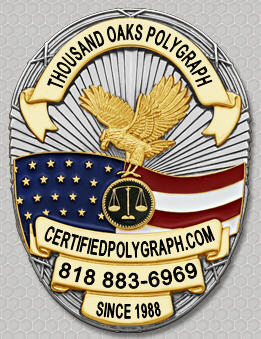 3. Insist on only using an examiner with 34+ full years of experience for your Thousand Oaks polygraph:

--Doing one or two exams a week for 10 years is not 10 years of experience-- that is really 1 year of experience spread out over 10 years!


4. Insist that the exam cost less than $200 and also include a formal written report at no extra charge:

--In this economy, that is a fair price to pay for an hour of an examiner's time: don't be 'gouged'.

5. Don't be fooled by frivolous claims of 'memberships' or 'training':

--Examiners are all taught the same. 'Newbies' can only talk about who they pay to join. Only one thing really matters-- EXPERIENCE.
---
Read about our expert polygraph examiner's more than 10,000 completed exams and 34+ years of lie detection a

t

www.AffordablePolygraph.com!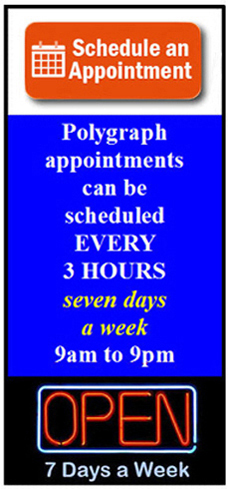 Call 818 883-6969 to schedule a lie-detector test in Thousand Oaks

© 1988-2021 PolygraphThousandOaks.com

Polygraph lie-detector testing in Thousand Oaks